Isham is a historic six-acre community cemetery established in 1870 and located in east Fort Worth. The Historical Marker can be found on the north end of the cemetery.
The Rev. W. Marion Isham (1831-1904) and his family came to Tarrant County from Georgia about 1870. Soon after arriving in the area Isham donated a one-acre plot of land to be used for a community cemetery. The oldest remaining legible grave marker here is that of N. L. Sweet (1824-1870). Although earlier burials are documented by plain sandstone markers. Approximately five acres were added to the graveyard in 1941. Still in operation as a community burial ground, the historic graveyard is maintained by the Isham Cemetery Association.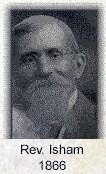 Reverend Washington Marion Isham was born in 1831 in Everett Springs, Georgia. He fought in the United States Civil War for the Confederate Army in the 65th Regiment of the Georgia Infantry and eventually earned the title of Sergeant. He married Rosamond Brewer on September 2, 1852 in Calhoun, Georgia. After arriving in Texas, he founded the Isham Chapel Methodist Protestant Church which included eleven charter members. W. Marion died in 1904 in Ederville, Texas at the age of 72. The Isham Chapel congregation increased in size over the years and in 1952 was relocated to Hurst, TX. It is now known as the First United Methodist Church of Hurst.